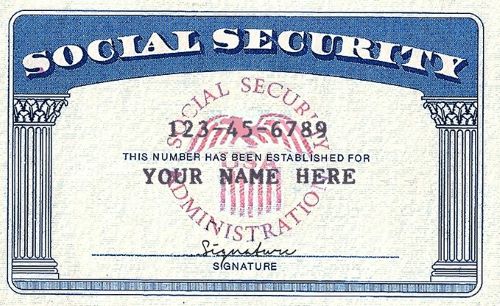 Get Credit for your Earnings
If you were undocumented in the United States and now have legal status, this information is for you. If you worked with a Social Security number that you invented, you may be entitled to transfer the credit for those years of work to your valid Social Security number.
The U.S. government uses Social Security numbers to track a person's earnings and number of years worked. That information is used to calculate a person's benefit payments when they retire, or if they qualify for disability income. If you have previously worked using an ITIN or an invented social security number and you now have a valid social security number, make sure you get credit for all your hard work! Visit your local Social Security Administration office and ask about transferring your credits. You may be asked to bring copies of your previous tax returns or pay stubs as proof of your earnings.
Sometimes, not everyone at the Social Security Administration office is familiar with the process of transferring credits, so you may need to ask for someone else to help you. In the past, our clients have told us that the employees who speak Spanish have more experience with the process.
Pro Tip: Do NOT carry your Social Security card with you.
When you get your Social Security card, memorize the number, and put the card in a safe place at home. NEVER carry your Social Security card (or any piece of paper with your number written on it) in your purse or wallet unless you need the card THAT DAY. Why? If your card or number is lost or stolen, it is very easy for an identity thief to take over your identity, opening bank accounts and credit cards, obtaining a driver's license, and even working under your name. Unlike a debit or credit card, you cannot simply cancel your Social Security number if it is lost or stolen. Having a Social Security number is NOT proof of your legal status, so there's no benefit to having it with you. Don't take the risk!
Events:
April 27th: Citizenship Day at Tacoma Community House
Do you need help preparing your application for U.S. citizenship? Attend Citizenship Day at Tacoma Community House on Saturday, April 27, 2019 for FREE assistance from volunteer immigration attorneys and support staff. The event begins at 10:00am, but we strongly recommend arriving early. Click here for more details about where to go and what documents to bring with you.
May 5th: Detention Lottery at Plymouth Church UCC
On Sunday, May 5, 2019, Plymouth Immigration Ministry will host a production of The Detention Lottery following the 10:30am worship service at the Plymouth Church United Church of Christ in downtown Seattle. Visit the church's Facebook event page for more details.
---
Obtenga credito por sus ingresos
Si usted estuvo indocumentado en los Estados Unidos y ahora tiene un estado legal, esta información es para usted. Si usted trabajó con un número de Seguro Social que usted inventó, puede tener derecho a transferir el crédito por esos años de trabajo a su número de Seguro Social válido.
El gobierno de los Estados Unidos utiliza los números de Seguro Social para rastrear los ingresos de una persona y la cantidad de años trabajados. Esa información se utiliza para calcular los pagos de beneficios de una persona cuando se jubila o si califica para el ingreso por discapacidad. Si usted ha trabajado anteriormente utilizando un ITIN o un número de Seguro Social inventado y ahora tiene un número de Seguro Social valido, ¡asegurese de obtener credito por su arduo trabajo! Visite la oficina local de la Administración del Seguro Social y pregunte sobre la transferencia de sus créditos. Se le puede pedir que traiga copias de sus declaraciones de impuestos anteriores o los recibos de pago como prueba de sus ingresos.
Alguna veces, no todos en la oficina de la Administración del Seguro Social están familiarizados con el proceso de transferencia de créditos, así que es possible que tenga que pedir que otra persona lo ayude. En el pasado, nuestros clientes nos han dicho que los empleados que hablan español tienen más experiencia con el proceso.
Consejo professional: NO lleve consigo su tarjeta del Seguro Social.
Cuando obtenga su tarjeta de Seguro Social, memorice el número y guarde su tarjeta en el lugar seguro en su casa. NUNCA lleve su tarjeta de Seguro Social (o cualquier pedazo de papel con su número escrito en el) en su bolso o billetera a menos que necesite la tarjeta ESE DIA. ¿Porque? Si pierde o le roban su tarjeta o número, es muy fácil para un ladrón de identidad tomar el control de su identidad, abrir cuentas bancarias y tarjetas de crédito, obtener una licencia de conducir e incluso trabajar bajo su nombre. A diferencia de una tarjeta de crédito o débito, no puede simplemente cancelar su número de Seguro Social en caso de perdida o robo. Tener un número de Seguro Social NO es prueba de su estado legal, por lo que no es beneficioso tenerla con usted. ¡No se arriesgue!
Eventos:
Abril 27: Día de ciudadanía en Tacoma Community House
¿Necesita ayuda para preparar su aplicacion de ciudadanía estadounidense? Asista al Día de Ciudadania en Tacoma Community House el sábado 27 de abril de 2019 para obtener asistencia GRATUITA de abogados voluntarios de inmigración y personal de apoyo. El evento comienza a las 10:00 am, pero les recomendamos encarecidamente llegar temprano. Haga clic aqui para obtener mas detalles sobre donde ir y que documentos traer con usted.
5 de Mayo: Loteria de Detención en la iglesia Plymouth Church UCC
El domingo 5 de Mayo del 2019, el Ministerio de Inmigracion de Plymouth organizará una producción de la Lotería de Detención (The Detention Lottery) después del servicio de adoracion a las 10:30am en Plymouth Church United Church of Christ en el centro de Seattle. Visite en Facebook la pagina de eventos de la Iglesia para mas detalles.