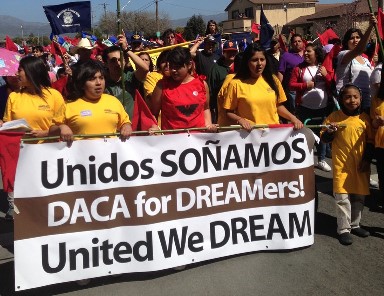 U.S. Citizenship and Immigration Services (USCIS) announced on January 13, 2018 that it is once again accepting applications to renew Deferred Action for Childhood Arrivals (DACA) status.
This announcement affects ONLY those who were previously granted DACA status. At this time, USCIS is not accepting new applications from individuals who have never had DACA.
USCIS will not accept or approve requests for Advance Parole from current DACA recipients.
Special notice for individuals whose DACA expired before September 5, 2016, or was terminated at any time: Previously, you could not renew DACA if more than one year had passed since your last DACA period expired. However, under this recent decision, USCIS will allow you to submit a new initial application for DACA. Just like the first time you applied for DACA, you will have to submit documents to prove your eligibility, including evidence that you continuously resided in the US since June 15, 2007.
We do not know how long USCIS will be accepting applications, so if you would like to apply to renew your DACA, do so immediately! If you're not sure if you can renew your DACA, or if you've had any arrests or criminal issues, it is very important to consult with an immigration attorney.
There is a scholarship available for DACA applicants who cannot afford the $495 filing fee. To qualify, you must fill out an online application, found here: http://lc4daca.org/
---
El Servicio de Ciudadanía e Inmigración de los Estados Unidos (USCIS, por sus siglas en inglés) anunció el 13 de enero de 2018 que nuevamente acepta solicitudes para renovar el estado de Acción Diferida para Llegados en la Infancia (DACA).
Este anuncio afecta SÓLO a las personas a las que previamente se les otorgó el estado DACA. En este momento, USCIS no acepta nuevas solicitudes de personas que nunca han tenido DACA.
USCIS no aceptará ni aprobará peticiones de Advance Parole (permiso adelantado para viajar) presentados por los beneficiarios actuales de DACA.
Aviso especial para las personas cuyo DACA expiró antes del 5 de septiembre de 2016 o que fue cancelado en cualquier momento: Anteriormente, no se podía renovar DACA si había pasado más de un año desde que se expiró su último período DACA. Sin embargo, bajo esta decisión reciente, USCIS le permitirá presentar una nueva solicitud inicial para DACA. Al igual que la primera vez que usted solicitó DACA, tendrá que presentar documentos para demostrar su elegibilidad, incluida la evidencia de que residió continuamente en los EE. UU. desde el 15 de junio de 2007.
No sabemos cuánto tiempo USCIS aceptará las solicitudes; por lo tanto, si desea solicitar la renovación de su DACA, ¡hágalo inmediatamente! Si no está seguro si puede renovar su DACA, o si ha tenido arrestos o problemas criminales, es muy importante consultar con un abogado de inmigración.
Hay una beca disponible para los solicitantes de DACA que no pueden pagar la tarifa del gobierno de $495. Para calificar, debe completar una solicitud en línea, que encontrará aquí: http://lc4daca.org/